This post contains affiliate links for your convenience.
Stone Painting Tutorials from Artists Around the World
Be sure to PIN or SAVE the projects you want to try for later.
After seeing so many creative stones being painted I decided to go whole hog and get my fingers painty with my own stone painting creations.
I had so much fun I concocted a plan to invite stone painting artists from around the world to join in my series 180 of stone painting, and to my great delight many of them said YES!
New Tutorials Added Regularly Until We Reach 180!!! From April 2019 to October 2019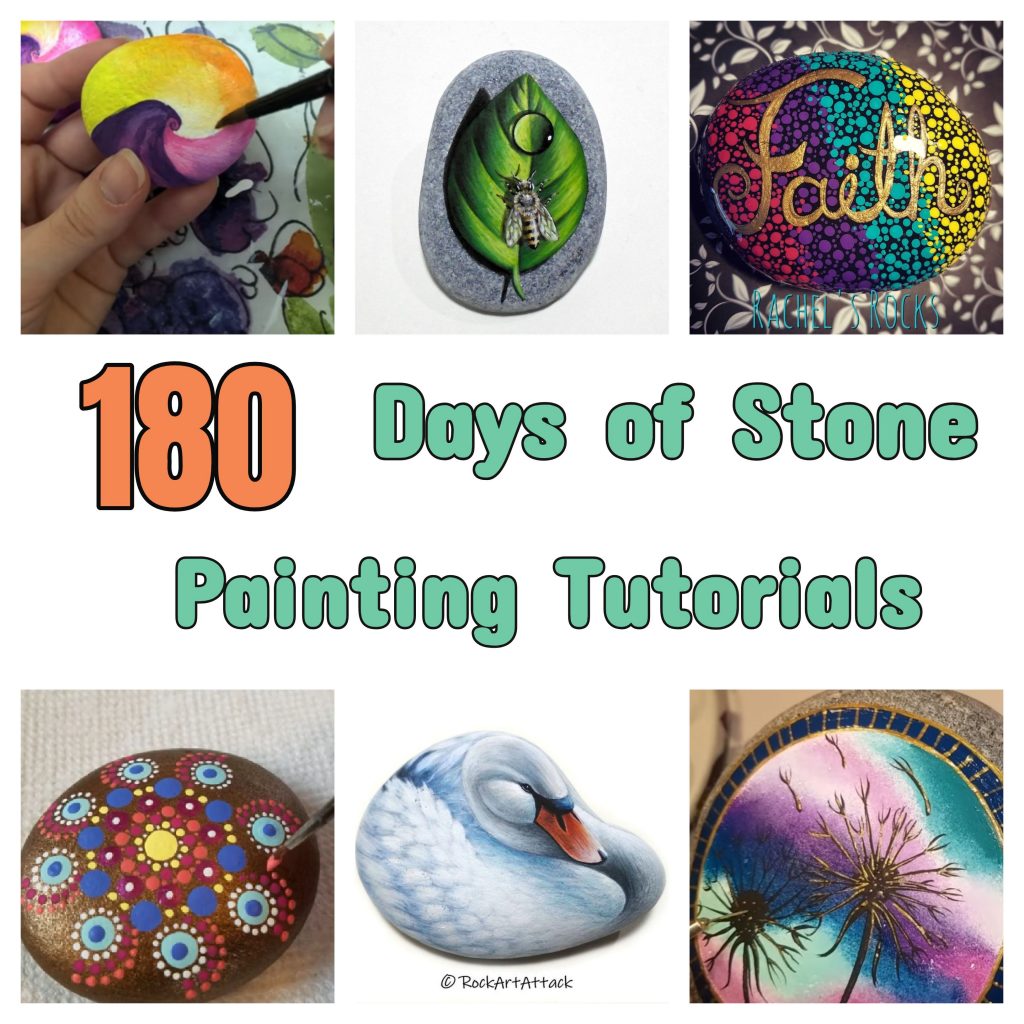 Want to take part in this series and have your stone painting tutorials featured?
Check out the stone painting submission guidelines here.
Have a suggestion for a tutorial. Let us know!
Click on a picture to go to the FULL LENGTH video tutorial.
More about rock artist Rachel from Rachel's Rocks Canada
Rachel is a self taught painter, but her artistic creative isn't limited to that! She also play the guitar and enjoys writing her own songs. More recently she's gotten into painting and wowed her audience with her breath taking rock art designs. You can buy one of Rachel's Rocks from her Etsy shop, follow her on Facebook or subscribe to her Youtube Channel. If you want to learn how to paint a rock yourself for her tutorials. They're are quite relaxed and fun for ANYONE whether 6 or 106.
Click on a picture to go to the FULL LENGTH video tutorial.
More about rock artist Lefteris Kanetis of ROCK ART ATTACK
After studying fine arts in Athens Greece, Lefteris excelled at his paintings but wanted to try out stones. The results were breathtaking and after encouragement from family and friends he entered his first art exhibition. Things continued to progress and in 2010 on Greek Island of Ikaria he opened a painting workshop. His stones are now owned by individuals from all around the world! You can find his work here. Rock Art Attack Etsy shop, find him on facebook, or visit his youtube channel. Read the full ROCK ART ATTACK interview here.
More about rock artist Miranda of Miranda Pitrone Art
Miranda is a self-taught artist, born and raised in New England. Hiking and camping across the U.S. has led to many creative experiences for her. Throughout her life she has been inspired mainly by nature; specifically water and stone. Miranda has been painting stones since she was a child, where she started painting them with nail polish. She has been actively selling her stones since around 2013 on Ebay and Etsy. In 2014 she began to focus more on her dot art and Mandala stones.  These days Miranda paints in her studio near the coast of Lake Erie. She uses water-based acrylics to create colorful dot art designs on beach stones and canvas. These stones she and her family collect from Lake Erie beaches, rivers and the Atlantic Ocean. Miranda also captures a colorful perspective of life through the lens of her camera. She loves sharing her creations and experience with the world and is always looking for the next colorful adventure. You can find Miranda's art in her Etsy shop, on Facebook, and on Instagram
Need paints? The ones below work great for all sorts of projects.
Follow the whole series on this playlist!