Interview with Felt Creator – Vanda Sousa from Going The Dodo Way
Upon my searching for some nice little felt tutorials I stumbled across Vanda's Youtube channel.  Full of colours, shapes and a simple minimalist style her work captivated me immediately.  She's the author of her blog Going the Dodo Way.  Where you'll find and abundance of simple free felting tutorials, as well as paid online workshops from beginner to advanced!  Be sure to check out her Etsy shop to see her newest felting courses and cute minimalist creations.
You can also check out Vanda's FREE felting tutorials here: 
Lets get on with the interview!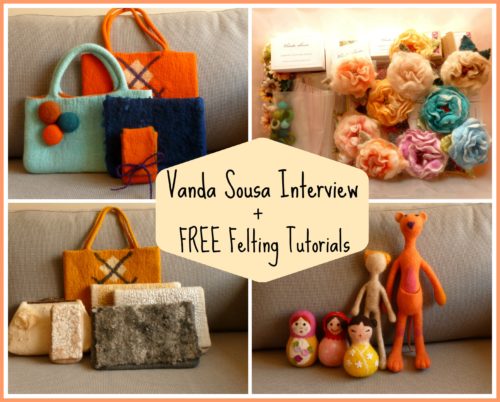 Why do you felt/craft? How did you learn?
I can't imagine a life without crafting. It relaxes me from the routine and stress. When I'm crafting, all worries disappear. For me it's a sort of meditation.
And crafts have actually been a part of my life since I can remember. Maybe because I was always surrounded by people, who make things by hand. My father used to make all sorts of things with Plexiglas for me and my sister. My grandmother was a master at crochet. One of my uncles made me boats and vintage cars out of powder milk cans, way back in the 70s. Another one of my uncles is a painter.
So, I would experiment with every material I could get my hands on. But I always had a special interest for textiles, and I started making my own clothes in my teens.
I discovered felt in 2001 I believe. I was strolling through Berlin (where I lived at the time), when I saw a shop window with a display of Dagmar Binder's hats (Textillabor). They were absolutely incredible, real wool sculptures. I was stuck to the shop window for a while, and I became obsessed with finding out how they were made. One thing led to another, and I eventually discovered the work of Christine Birkle (Hut Up) and Masha Ginsburg, both Berlin-based artists, and my love for felting grew.
Back then it was very hard to find materials or books on felting, but I bought what I could find and started experimenting. And in 2006, I started selling my work and teaching workshops in Lisbon.
Being self-taught has two big advantages: it's made me a very experimental felter and it's given me a very good perspective of the difficulties people have when learning to felt. That's why I put a huge focus into the details, when I'm teaching, and I'm always happy to share tips and tricks.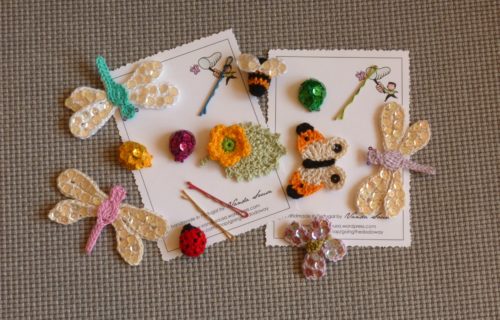 What are your can't-live-without craft-room essentials?
That's such a hard question to answer, because I'm one of those crafters, who has to buy the whole catalogue once I discover a supplier I like. I need variety, so my crafting room is full of drawers with wool, silks, beads, and so much material I collect, just in case I need it some day ?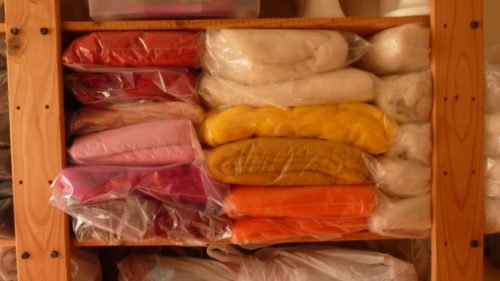 How would you describe your style? Are there any crafters/artists/designers that you particularly look up to?
I would say there are three main features to my style: strong colors, contrast and straight lines. Then I like to add natural elements – like flowers and insects – and geometry – like simple patterns.
There are so many artists I look up to. In felting, four names immediately pop-up: Christine Birkle, Dagmar Binder, Charlotte Sehmisch and Anette Quentin-Stoll, because I love their style and their particular techniques. But there are so many more, like Gladys Paulus, Atsuko Sasaki, and Ulrike Ay, just to name a few.
What do you do to make your workspace an enriching and inspiring place to be?
I have my workspace at home, so I don't have as much room as I would like to. In a small space, keeping things tidy and easy to find is the most important thing for me. I also like to arrange my wool in such a way that I can immediately see what's available in terms of colors.
If I'm developing ideas for new pieces, I take out materials and display them, so that I can look at them for a couple of days and decide what feels goods.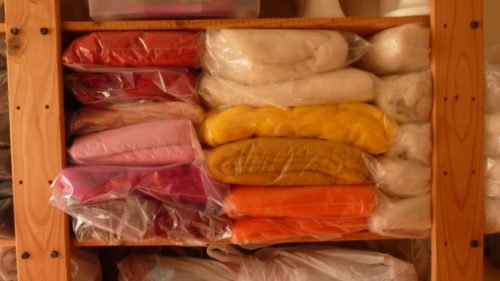 What sorts of things are inspiring you right now? Where do you look for inspiration?
I'm a very curious person, so I keep my eyes open for inspiration everywhere. I like to go through magazines, and Pinterest, of course. That's where I go for something quick, like when I can't decide on a color combination.
Generally speaking, my influences come from fashion and interior design. Unusual jewelry with mixed materials, crochet, knitting and embroidery, as well as ceramics, and tile design, are also areas I like to explore. I might just get an idea for a color or a shape, or for an unusual detail. If you'd like to know more about what inspires me, my Pinterest boards can also give you a better idea.
When do you feel the most creative?
Nothing makes me feel more creative than a long walk on the beach (as long as it's not in the summer) or hiking in the woods or the mountains. It might sound like a cliché, but living in a big city never lets your mind calm down enough for new ideas to come in.
I usually have bursts of new ideas when I'm out in Nature, and then write them down to work on them in the near future.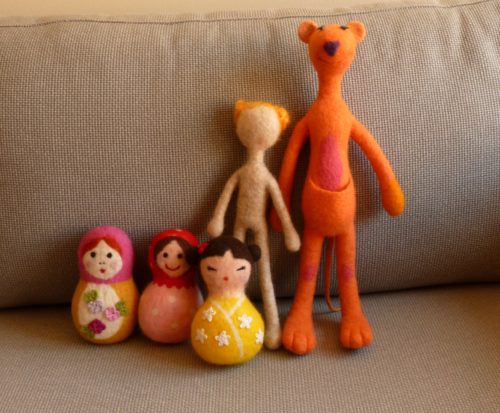 How do you balance your work with your home life?
I actually haven't found a solution to that yet. In fact, I'm going through a particularly imbalanced phase of my life right now.
I'm working as a translator and a language teacher, while creating my online workshops. That means long work days, and weekends filming and editing video, photographing and writing blog posts. But, for now, it's the only way I can go on doing this work I absolutely love.
Luckily, I have a daily yoga and meditation practice, that helps me keep focused and calm.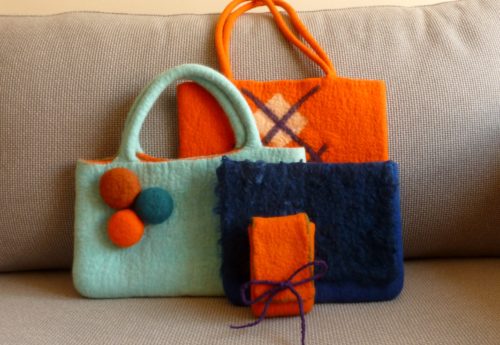 What is one goal you'd like to achieve with your felts?
I'd say my goal is to be able to convey the love and wonder I have for felting, while making it an accessible technique.
In one of my last live workshops, one of the girls attending was felting for the first time, and she decided to start by making a hat. As she saw the wool transforming into a hat, she said "Wow, this is like magic!". And I was so happy about it, because that's exactly what I'd like to show people: that felting is like magic, because wool is such a special fiber, with amazing properties.
But I know that wet felting seems hard to learn for so many people, and I'd really like to prove that it's not true. You can learn it well, and make amazing pieces, as long as the person you learn it from teaches you the details.
So, I'd like to bring wet felting to more people, and of course the internet is the perfect place for that. After focusing on teaching live workshops for years, I'm now shifting to an online audience. So, I'm planning to create longer courses for the people who really want to dive into the craft and aren't satisfied with a tutorial.
On the other hand, I absolutely love the direct contact and getting to meet the women I teach. So, I'd love to start doing more personalized live workshops as well, tailored for specific small groups.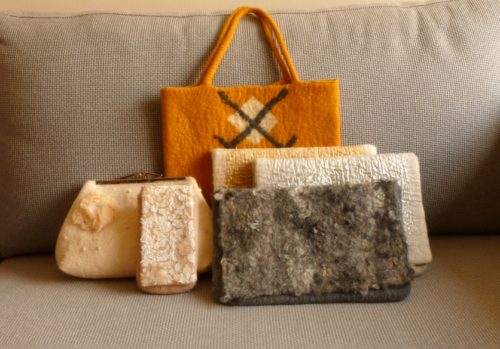 Thank you so much Vanda, for sharing your passion and inspiration with us as well as letting us peek into your very busy personal life!
Feel Inspired?  Please share with us what inspires YOU!