Let's Make A Chunky Knit Seed Blanket!
This post contains affiliate links for your convenience.
For the full version of this video please see here
You'll need:
120 meters of super chunky yarn (or 3 kgs/6.6 lbs of felted merino wool roving)
Your arms!
Step 1. Cast on 17 stitches
Or as many stitches as you'd like the blanket to be wide.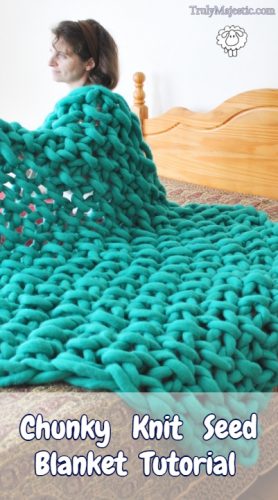 Step 2. Knit and Purl
In all rows slip the first stitch, then alternate rows of "knit1, purl1, repeat" and the next row of "purl1, knit1, repeat"
Step 3. Cast Off and Weave in the Ends
Pattern TIP
For every row check what the previous stitch was.  If you're not sure what type of stitch to do, check the previous row and the exactly stitch your on (so basically just look directly below the stitch your on).  If the stitch below is a knit stitch, you'll need to make the stitch your on (above that) a purl stitch.
By alternating knit and purl stitches you have a vast array of lovely textured bumps for your chunky knit blankets!
Good yarns for this project are: