Where to begin?
When you see gorgeous and stylish decor elements in the shops or at your friends' homes you think that such beauty never can be done by your own hands. But it is a delusion because there are plenty of ways to do it even if you are not so good at any crafts. And you should think about this not only because of this but because the creation process is beneficial for many reasons.
it brings pure pleasure;
it gives you an opportunity to think creatively and use your imagination;
there are no more unused things, you can give a second life to something( which is an eco-friendly life approach)
it can unite different generations in one common activity.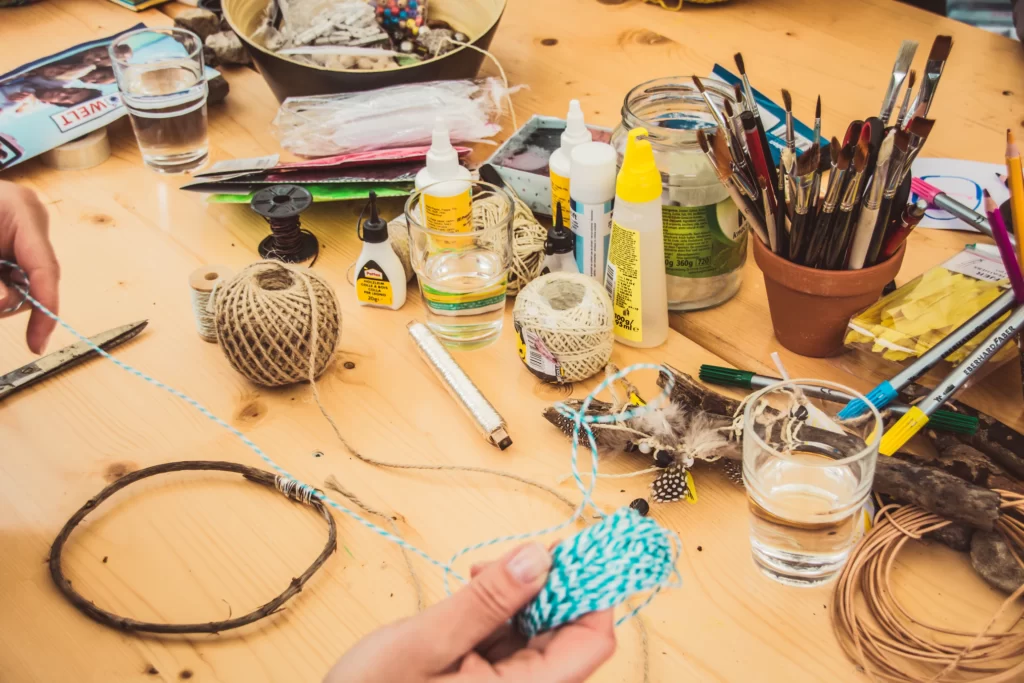 What do you have?
Crafts for the interior with your own hands can be created from anything – even if the thing seems completely useless and unsuitable. Just look in your dressers, nightstands, chests, or other storage spaces.
newspaper tubes (baskets and caskets are made of them);
stones and shells you took 100 years ago from the sea-coast;
old postcards;
unused balls of knitting threads(you can try making macrame);
grandmother's beads, bracelets, and rings;
children's blouses, tights, and socks;
assorted buttons.
Interior DIY decor is an art that will fit in any home with any style and make it cute and warm. And warmth is one of the most important indicators of comfort.
But try to consider your interior design style and try not to take the complex tasks that require special skills. Your decor element should look good in the interior. So if you will try to crave from the wood block a figurine and you don't have the abilities and knowledge on how to make it right you might finish with something that will ruin your interior look.
Cans
Tin cans can be so well decorated that no one will recognize them as containers for canned food. Use a variety of improvised materials and get a gorgeous result. And since this type of craft is available to everyone, it is not surprising that jars vases are very popular elements for the interior of a room.
Variant # 1: take a tin can (a higher one), color it with spray paint in any suitable shade, and let it dry. And then decorate as you wish: wrap it completely or partially with ordinary twine, stick lace, artificial or dried flowers, branches, and coffee beans.
Variant # 2: use the famous decoupage technique – paste over the tin with the top layer of a multilayer printed napkin – completely or with its individual elements. After drying, varnish it.
Decoupage is one of the universal ways of decorating, equally well used for tin, glass, wood, and for plastic.
Variant # 3: wrap the jars with burlap, tie them with ropes from above and below and decorate them with linen elements(you can make flowers from it, or just use it as a ribbon for the upper part of the jar).  And your vases for the interior are ready.
Bottles
After the holidays, in any house, you can find a large number of bottles, among which there are specimens of bizarre shapes that you just want to improve a little and decorate the interior with them.
Yes, and ordinary, unremarkable glass containers can take on the function of an original craft for the interior – you just need to show a little imagination and make a little effort.
Decorated bottles can be used both for festive events and as decorations for your furniture. For example, dining set from orren ellis can be a good base for such a vase made from the bottle. Such do-it-yourself crafts for the interior of an apartment are both affordable and original.
Painting with semolina. Use only well-dried semolina (this also applies to other cereals for decoration), can be colored (summer, bright version) or white (winter, New Year's). The process is simple: spread a beautifully shaped bottle with glue and sprinkle with semolina so that the grains settle on the glue and form a pattern.
When the product is dry, shake off the remnants of semolina and apply a layer of varnish on the semolina pattern, you can even hairspray it if you are not going to use and wash the bottle.
Acrylic paint. Acrylic paints fit perfectly on glass and tolerate subsequent processing with several layers of varnish. Moreover, it doesn't matter whether the author has the talent of an artist, or if it is completely absent. Both pictures painted by an experienced hand or on the contrary amateur one look equally original on the bottles.
Fabric and knitwear are ideal for creating a decorative surface for the bottle.  You can successfully use whole tights, patches, and threads.
When decorating bottles, a combination of techniques is acceptable: painting with acrylics + decoupage, laying colored cord + decoupage, or painting.
Branches
In order to create something for the interior from wood, and even achieve high-quality products, originality, and artistic value, you must at least have the skills of a carver. But now we will not talk about high-class specialists, but about amateurs who have never seen special tools for carving.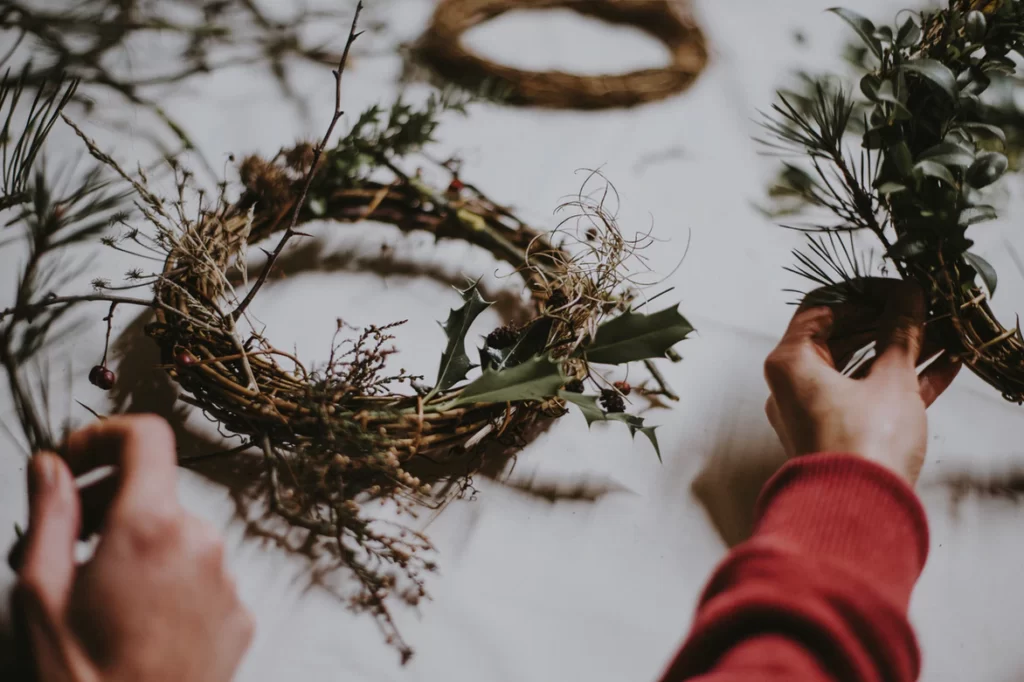 And the solution will be to use not the wood itself, but the branches that also have really sophisticated look.
Variant #1
Make a frame out of four branches, fastening them with a cord.
Attach a picture directly to the frame – a flower created from branches, a bird, or something else;
Variant #2
Stick pre-prepared branches on a blank base made of durable cardboard. The easiest way to create panels will be to collect branches in various geometric shapes.
Variant #3
Take a cardboard circle (or from fiberboard) as a basis, and attach thin branches of different lengths to it with glue or nails – it will look like rays. The more branches there will be, the better the panel will ultimately look. In order for the sun shape to have a finished look, place large artificial flowers of yellow shades in the center of the panel – sunflowers, roses, and large daisies.
But the main tool for creating a stylish interior is not in the needlework box, but in the head – this is imagination. It should be used first.