For all those who are not willing to spend their arms and legs on yarn, here's a sweet alternative to wool roving.
It's time to make your own yarn.  Not only is it quick and easy, but it also doesn't brake the bank because you can buy a cheap, thin, synthetic yarn. 
Let's Get Started!
Step 1: Tie a Slip Knot
Not to hard there…
Step 2: Pull Through and Repeat
You'll want to pull your working yarn through the loop all the way until it get's to an arms length.  Now continue pulling the yarn through the newly formed loop each time until you've completed the whole ball of yarn.  Next we'll wind it into to an "Easy to Use" center pull ball.
Step 3: Start Winding the Yarn
Grab the end (and hold on) while gently winding all the yarn around your hand.  At the end pull out your hand with the end your holding onto and now you've got a perfect center pull ball.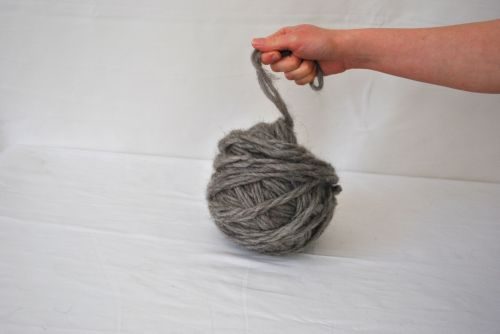 Finished!
I want to see YOUR yarn =)
  Snap a picture of your yarn, and share it with me in the comments on the "How to Make Arm Knitting Yarn" Facebook post here.
Happy Arm Knitting!
Stacy
Don't forget too….