Fun And Easy Heart Afghan Tutorial
This heart afghan is one of my favorites to make.  It's fast and easy and suitable for beginners, just go slow and easy.  You'll have a gorgeous heart knitted up in no time.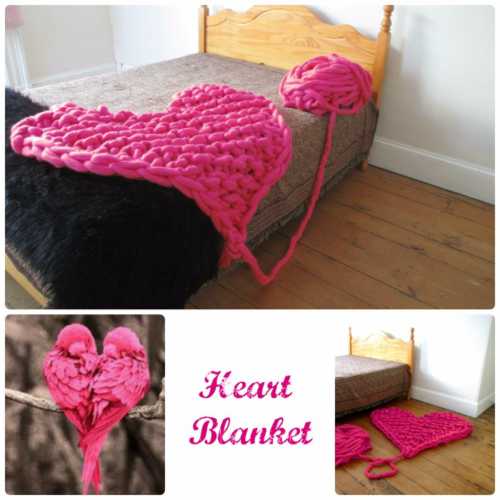 Materials Needed: 2 kg (4.4 lbs) of lightly felted wool roving (see the bottom of the page here on how to felt roving), or several strands of super chunky yarn each one 100 meters (109 yards) in length.
Time Needed: 20 – 40 minutes depending on how fast you knit.
Stitches Used: 
Knit (k)
Purl (p)
Slip 1 (s1)
Make 1 (m1)
Knit 2 Together (k2tog)
Knit 3 Together (k3tog)
If you'd like to see the entire heart afghan pattern please watch the video on youtube and check out the description, it's all there.
Let's Arm Knit The Heart Afghan!
Changing The Heart Afghan's Size
The size can easily be changed by using the following methods.
Increasing the size
You can increase the hearts size by adding more make rows to the heart bumps.  Add a make row (sl1, m1, p3, m1, k1) to row 6 instead of a regular knit row.
If you still want it larger you can continue using make rows on every even row until the bump is the size you want it.  Be sure you take notes on how many row's you've knitted on the first heart bump so you can repeat exactly the same thing on the second bump.
Decreasing the size
Your heart afghan can be made smaller by ending the heart bump on row 5 or if you want it very small ending on row 3.
When knitting the body of the heart together with the bumps start each even row by slipping one stitch, knitting 2 stitches together, knit all the middle stitches, then when you have 3 stitches left on your arm, knit 2 stitches together and knit the last stitch.  Continue on in this pattern until the end of the heart.
Happy Arm Knitting!
Stacy
P.S.  Let me know how easy or difficult you found the tutorial, and what tutorial would you like to see next?