Acrylic paint is an excellent medium for learners which is affordable, water-soluble, quick-drying, flexible, and friendly. If you're not satisfied with an area you've painted, simply wait for it to dry before painting over it.
Acrylic is a liquid polymer, thus it may be painted on any surface that is not really waxed or oiled. Acrylics, unlike oils, do not require any solvents and may be cleaned up with soap and water.
Gain knowledge in purchasing, and you'll be able to sense your inner artist in no time, thanks to a good medium that you were unfamiliar with when they created their masterpieces. You can get the best painting ideas with the help of acrylics. We hope you enjoy painting with multiple types of acrylics.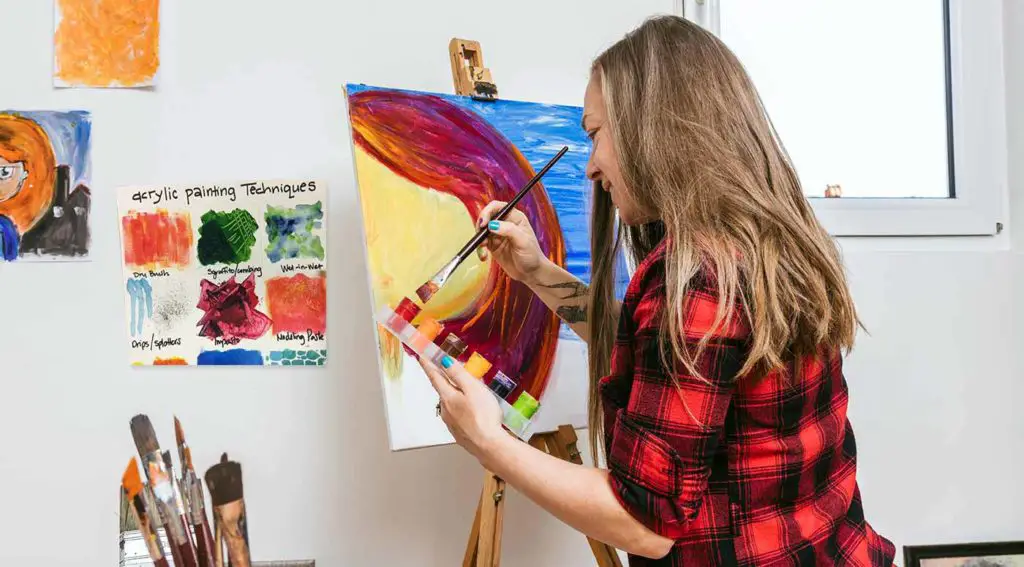 Acrylic Painting: Brush Control Techniques
The next is learning about how to use acrylic paint and practise with your brushes. I'll show you how to practise with some simple brush techniques, and by the end, you'll have a great view of how to utilise the various types and sizes of acrylic painting brushes.
Don't worry if your strokes were not correct; the point is to have fun and get to know your brushes!
Before we go through each brush type, I'd like to share one of my favourite acrylic painting tips with you. Adding water to your acrylic paint brush will give you more control.
This may come as a surprise because acrylic paint is not the same as watercolour. Acrylic paint, on the other hand, has the advantage of being water-soluble.This means you can add water to the paint while it's still wet and it won't affect the structure too much.
You'll have greater control over the smoothness of your strokes if you add water. You're more likely to get irregular droplets of paint in your strokes if you use acrylic paint and a dry brush.
Let's look at various brush types for acrylic paint now.
Angular Brush Technique
Round Brush Technique and
Thick Brush Technique
Angular Brush Technique
If you're working on an easel, the angled brush will help you feel more at ease by giving you greater control over your motions. This paintbrush is a flat brush with an angled shape that is also known as a chisel or slanted brush.
The brush's angle helps the painting of curves and allows for the creation of crisp lines and other forms of various thickness. You can create some unique textures, and the brush makes painting things like waves a pleasure.
Round Brush Technique
A Round Brush is responsible for some of the most beautiful waves ever, but if not properly handled, it may be a cause of disappointment for some. Brushing, curling, and drying hair at the same time is difficult! On the other hand, mastering this method may lead to the ultimate at-home blowout-which is reason enough to learn how to handle a round brush.
Brushes with a broad belly and a long tapering end are known as round brushes. They're quite flexible, and may be used for both long, powerful strokes and fine detail work.
A silky hair round brush with a very tiny tip that may be used for delicate brushwork.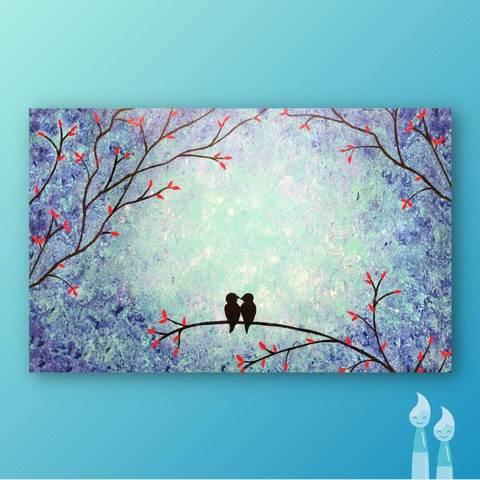 Thick Brush Technique
A heavy brush with dense bristles is the last brush I recommend working with. These brushes are ideal for creating texture that can only be achieved with acrylic paint.
I love it when the textured bristles of the brush show through on the paper. You'll get unique textures using different brush methods.
Practice painting even dry strokes on the page using a dry brush to get an artistic touch.
How to Mix Acrylic Paints?
It takes a lot of skill to mix paints properly. It is really good to be familiar with the colour wheel even if you're matching highly accurate colours as you work. Oranges may be created by adding red and yellow colours.
Brown and burned numbers result with the addition of green. When painting with acrylics, using a palette knife, a plastic knife, or even an additional brush is suggested. Mix thoroughly, and keep in mind that few paints might finish a shade darker than others.
How To Stop Acrylics From Drying Out?
Acrylics dry faster-  too fast in some cases. When working with acrylic paints, showering them with water is an easy method to keep them moist. Gardening misters are available at hardware and gardening stores.
You may dilute your acrylics to the point of watercolours depending on the surface of the painting. This is a useful technique for fast laying down an underpainting to get started.
To Begin Painting With Acrylics, What Paint Brushes Do I Need?
Should I acquire a natural-haired paintbrush or a synthetic-haired paintbrush?
Artist paint brushes with synthetic hairs are preferable for acrylics. Taklon is a polyester that is used to make these hairs.
When wet, they will remain stiffer than actual hairs. Moreover, the chemicals in acrylic paint can harm artist paint brushes with natural hairs, making them become damaged in some conditions.
If that isn't enough to attract you, consider this: Do you want to paint with a brush whose hairs were removed from a pig's tail? (Horse hairs and that is what they're named for!).
All About Paint Brush Care
To ensure that your paintbrush lasts a long time, learn how to clean it correctly.
A lively paintbrush is one that is covered with paint, pouring with colour, and bouncing quietly over a canvas, leaving a path of vibrant pigment in its way. A satisfied paintbrush is a loyal companion who deserves to be treated gently. It's necessary to look after your paint brushes so that you can continue to like each other for a long time!
Never let acrylic paint on a paintbrush to dry.
Make sure that you don't get paint on the ferrule.
Don't place your paintbrush in a cup of water with the bristles down.
Useful Techniques For Acrylic Painting
Acrylic paint is great as, apart from watercolour, it doesn't require a specific canvas. Acrylic paint may be designed on a variety of materials, including paper, textiles, and canvas. Don't be scared to try out new acrylic methods and surfaces.
We realise how attractive a blank canvas can be, so we've created a list of nine simple acrylic painting techniques for beginners and experts alike. We hope you'll be inspired to produce your next masterpiece as a result of this…
Dry Brush
Washing
Stippling
Pouring
Splattering
Dabbing
Palette Knife
Detailing
Underpainting
Summering Acrylic Painting Lesson
Take a look at our little acrylic painting lessons if you want to enhance your skills. If you're new to acrylic painting or don't know where to begin, we suggest going with our beginner's guide to acrylic painting. You should know the types of Acrylic paints available and preferred techniques to use them.
The most difficult part of learning to paint is colour mixing. Learn more about how pigments interact with one another and what they will be mixed to create realistic colour combinations by looking at colour theory.