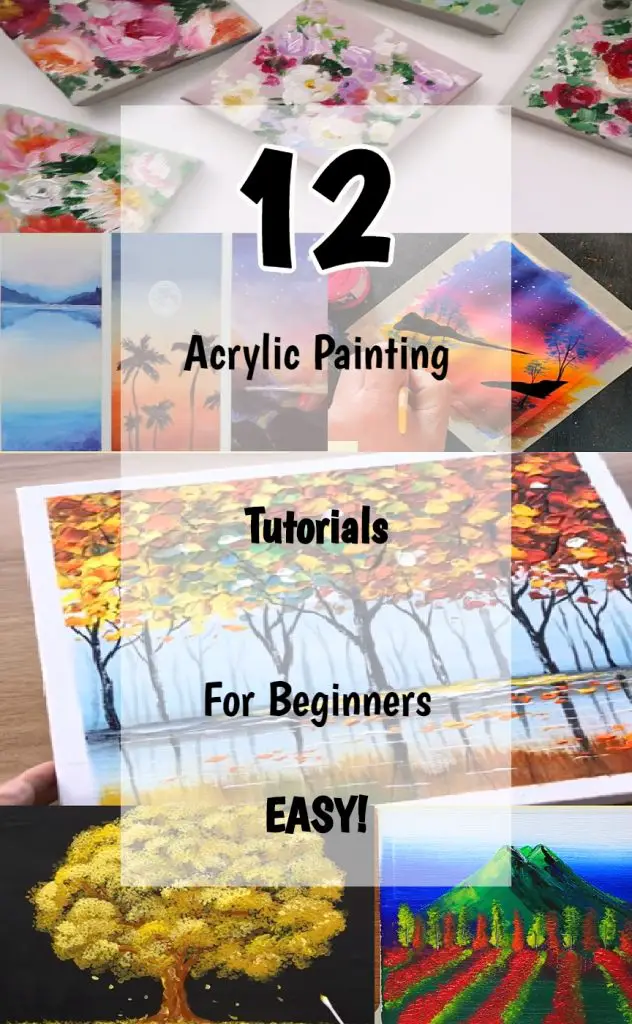 Looking for Acrylic Painting Ideas, Easy Peasy! Here they are look no further. I've compiled the best tutorials from across the internet to get you started painting. Many people don't realize they have natural talent in many areas simply because they don't try. However, if you've never painted let this be the place you begin to explore your natural talent.
But first a quick overview on acrylic paints!
Acrylic painting is a fast-drying paint made of pigment suspended in acrylic polymer emulsion and plasticizer, silicon oil, stabilizers, or metal soaps. Acrylics can bond to many different surfaces, and mediums can be used to modify their binding characteristics.
Acrylics are the most common paint used in grattage; a surrealist technique that began to be used with the advent of this sort of paint. They are used in these instances because they easily scrape or peel from a surface. A well-displayed array of acrylic-based wall art can be found at https://www.elephantstock.com/. 
Acrylic painters' paints may be thinned with water or acrylic medium and used as washes in the manner of watercolor paints. Acrylics do not lend themselves to the color lifting techniques of gum Arabic-based watercolor paints owing to their tendencies of not being rehydratable once dry.
Acrylic paints with gloss or matte finishes are common, a satin sheen is however populous.  Some brands exhibit a range of finishes with examples like heavy body paints; Politec acrylics are fully matte. Pigment amounts and particle size and shape can affect the paint sheen; matting agents can also be added during manufacture to dull the finish.
An acrylic sizing should be used to the prime canvas in preparation for painting with acrylic paints. Acrylic paints  surfactants that can pull discoloration from a raw canvas, especially in transparent, glazed,or translucent gelled areas,
Whether you like abstract, modern, classic, simple or complex paintings you'll never know what your capable of until you give it a go. Here's an abundance of different textures and techniques you can try out.
But first…
You should definitely check out this creative 8 year olds acrylic paintings. Fun and colorful she's going step by step to make herself and artist, and she's got LOADS of paintings to choose from. From abstract to cartoonish to simple.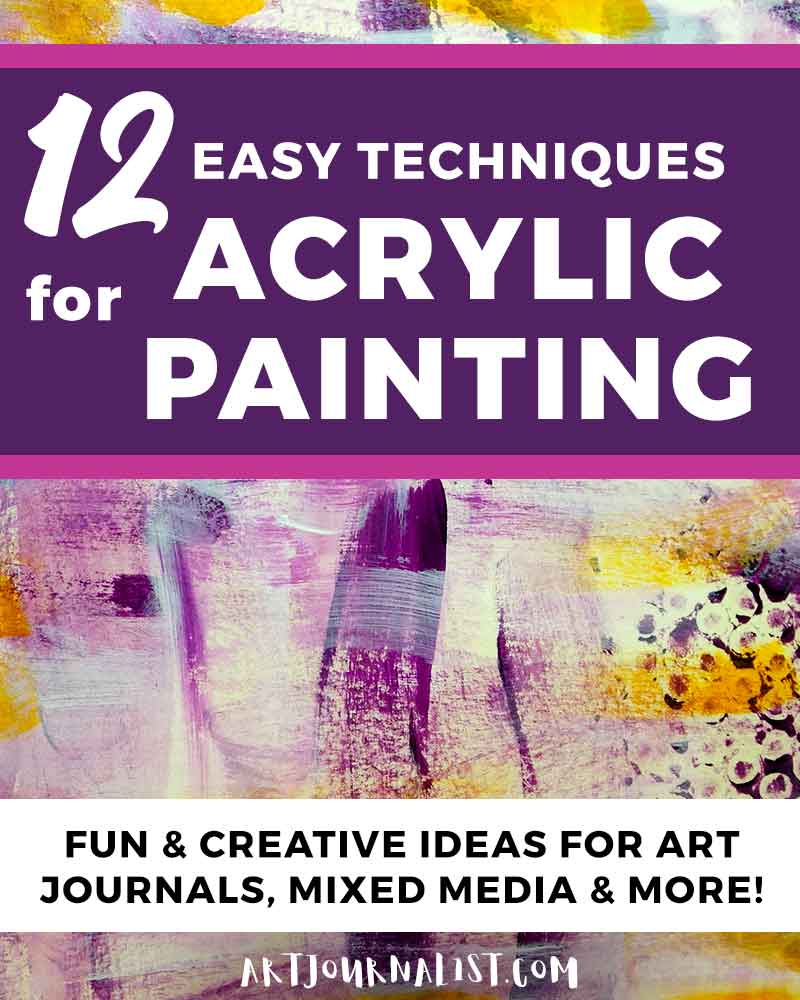 First lets explore some different looks and then further down the post you'll find full embedded tutorials on abundanty acrylic painting ideas, easy peasy right?
First lets explore pinterest. Here's a really nice compilation of different really simple styles you can paint out by yourself AND the paintings themselves look like they've actually be done by beginners so you don't have to be scared away by an absolutely perfect painting.
Brightcraft has a really fun selection of beginner painting ideas, you won't be every needing more acrylic painting ideas, easy peasy with this site to browse.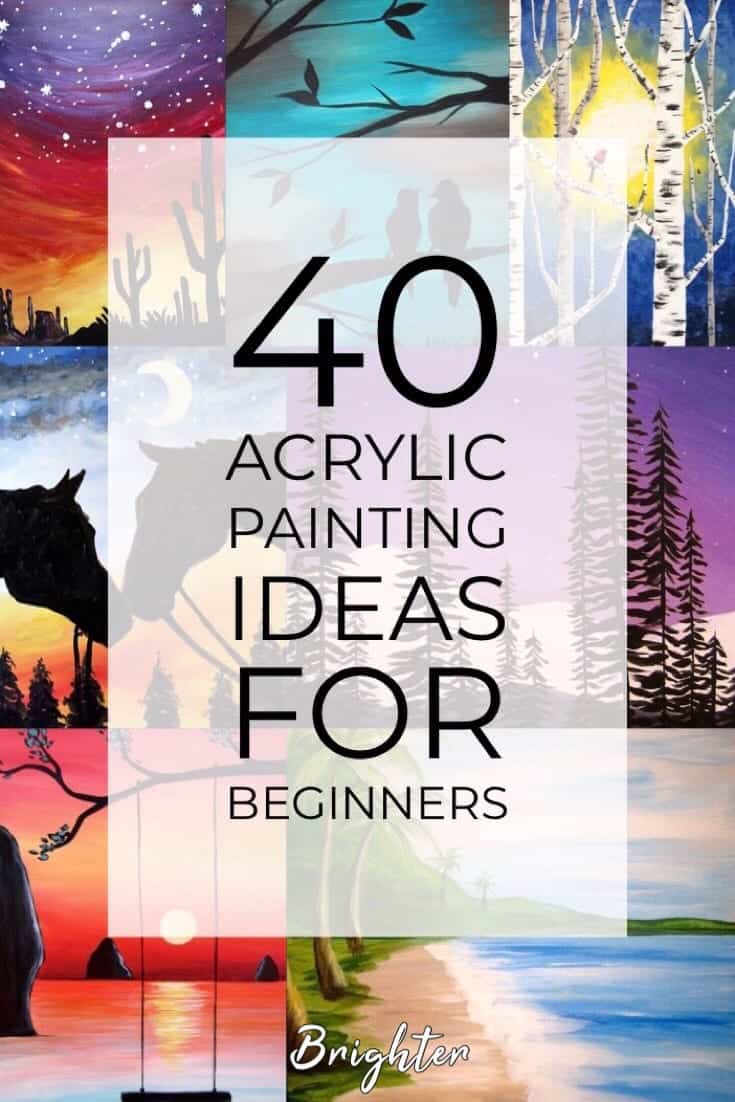 Okay that's enough ideas now for the tutorials. We're going to break the tutorials down into some different categories.
Landscape
Abstract
Popping Color (my favorite category)
Ray Grimes Acrylic Art
Ray Grimes has lots of painting tutorials that anyone can follow. The following tutorials is of colorful purple/pink trees set on water, and borders on being an abstract which makes it almost impossible to mess up (the good thing about abstract art, there's no such thing as a mistake).
Bargain priced painting supplies list below:
Suraj Fine Art
Suraj Fine Art Channel has an abundance of new video's every week and they are all beginner friendly. Usually using a palette knife (if you're really hard up to find that object you can use other things to improvise and because of the abstract nature of most of his paintings it will still turn out great)!
Makoccino Art
This lady has a lot of video's and ideas on watercolor, acrylic, blending techniques and just about anything else painting wise you can think of. Here's a really simple video that explains blending techniques for beginners while also create 3 very pretty landscape scenes. However you'll need to pay close attention to the instructions for the maximum benefits of this tutorial.
Amanda's Studio
This artist has a very small youtube following because she's new, but really great ideas and super simple tutorials to follow. Here's a dreamy night sky she's done with tape to make it into a geometric masterpiece when it's finished.
Ahmad Art
This artist loves to put his simple acrylic painting tutorials online with the sound of running water in the background. So I hope you have a strong bladder, otherwise you'll be running to the bathroom while trying to follow his tutorials. They're simple to follow and turn out nice work.
Emily Mackey Art
This gal does a lot of explaining as she paints so if you're wanting clear instructions as to what you're supposed to being doing as your painting this is the channel to go to. Below I've put one of her super easy sunset sky's on a tropical beach. It's fun and easy to do.
Serena Art
This gal does a lot of acrylic painting ideas, easy peasy, just for you! She posts a new one almost every day and usually uses a mini canvas so you won't have to go through tons of paint to do a simple painting. In addition to that, her ideas are fresh and interesting and her youtube channel is definitely worth checking out. Below is a gorgeous tall mountain with rows of colorful trees leading up to it. It's breath taking AND easy to do.
PriyA Art Studio
Although the tutorial below is for a black and white moon landscape painting most of this ladies art work is very colorful and she has some really creative ideas. Easy to follow and great for beginners this artist is a lot of fun to watch and learn from.
I hope if you try ANY of these tutorials you'll leave a comment and tell me how it's gone, and what you've learned. We're all learning and the whole point of all these tutorials is to encourage learning!
Wow Art
This person posts daily at the time I'm writing this and all their acrylic paintings are so easy to make it will have you addicted. You'll be spinning out professional art in no time if you watch their channel. AND they use tons of colors and simple techniques that make their paintings fun and interesting. No explanations here, only painting.
Art Today
This channel has lots of very basic but VERY COLORFUL paintings you can do. Step by step and simple, most are done on mini canvases so you won't need to be reaching very deep in your pocket to get started. Have a look below.
Katie Jobling
This artist has more advanced paintings, however the tutorial I've put below is dead simple, AND she uses teeny tiny canvases to create tiny flower bouquets which are gorgeous on any wall in any house. She's got lots of different tips and tricks to teach you so what are you waiting for?
Jay Lee Painting
This artist posts regularly and makes the tutorials super fun by using things like cotton buds, foil, toothbrushes and even combs to paint with. He makes painting so easy that even children can follow along and the end results are absolutely stunning!
Have you tried one of these!? Snap a picture of your painting and post it in the comments on our facebook post so we can all OOoooh and Ahhhhh over your art work! Facebook beginner painting post here.
In addition to all these gorgeous ideas to dress up your home with acrylic paints perhaps you'd like to put your own photo's on your walls instead. You can do that easily here.
Want to try your hands at OIL PAINTING??? Look no further. This is everything you need to know to get started.