This post contains some affiliate links, which we receive a commission from on all qualifying purchases.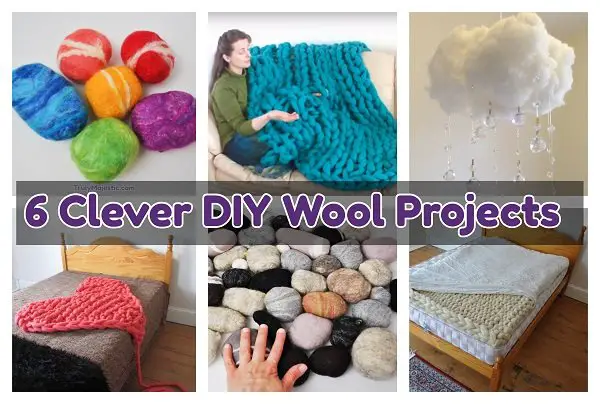 Why Are Wool Crafts So Great?
Let me sell you on the immense benefits of ANYTHING made with wool, before I show you all the cool wool crafts you can do.
Breathability Wool's inherent breath-ability and moisture-wicking properties help regulate body temperature, keeping you cool in the summer and warm in the winter.
Natural
Wool is all natural, and is a long lasting material with qualities that far outdo its synthetic counterparts
Renewable
Every year sheep grow a new coat of wool. Getting it cut off in the summer is a relief and like the best hair cut (you'll know this if you've lived on a farm and see how happy the sheep are skipping about the fields on hot days after they've been sheared).
Dust Mite Resistant
Wool creates a low humidity microclimate which is quite hostile to dust mites.  Dust mites LOVE damp warm places, so a wool mattress isn't old fashion it's ESSENTIAL for a crystal clean bed.
Naturally Fire Resistant
Perhaps this is one of the most wonderful benefits of wool. It's fire resistant so there is no need for bringing chemical treated bedding in if yours is mainly consisting of wool.
Hypo – Allergenic
Yep that's right, microbes and bacteria hate wool. That's why it's such a popular choice for health conscious Mum's with kids.
Supports Small Ranches And Ranchers
Wool is a sustainable product and helps small farms and ranches thrive in what their best at!
Sustainable And Lasting
With proper care, your wool products can last for decades.
Stays In Place
Because wool doesn't have silky properties, usually wherever you put a blanket or mattress topper is where it stays, unless you wiggle around an insane amount.
The Scent of Lanolin Wool has a mild natural scent which comes from lanolin, a natural oil that helps sheep regulate body temperature. Usually 1% of the lanolin is intentionally left in the wool after the scouring and cleaning process. This ensures conditioning effects and increases the longevity and vitality of our wool. Most people will not notice the smell, but some do and enjoy it's mild scent.
Now That Your Sold On Wool, Here are 6 Unique Crafts and Projects You Can Do With It!
P.S. All the projects below are 100% my own creations!
If you're a blogger and want to share them on your own blog, you're welcome to use the pictures as long as they link back to this page.
Wool Project 1: Crystal Wool Cloud Mobile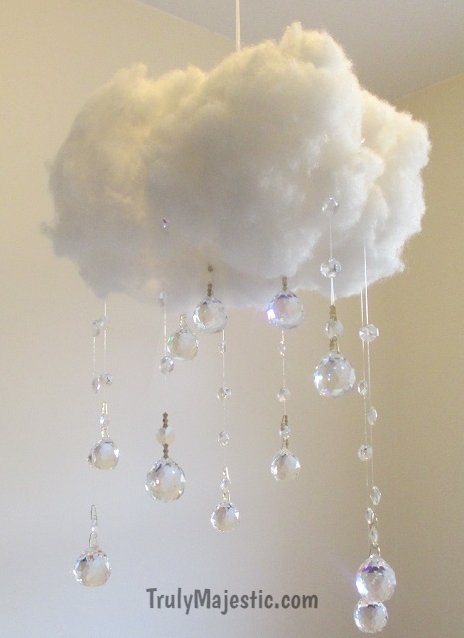 Supplies for Crystal Cloud Mobile Decoration
Watch the video to learn how to do this wool craft or read the instructions below. I'm sure it will inspire you to make your own unique wool crafts!
For the large cloud I used a cardboard box and for the small cloud I simply stacked 3 layers of old cardboard which I cut into the shape of a rectangle and then covered them with of wool all around, then went around and around the wool with string. http:// https://amzn.to/2MNHXOf
I tied long clear strings onto the bottom of the cloud and then put a crystal at the bottom. You can see some other variations of clouds below, and we also hand make our clouds to sell here.
If you want your crystal cloud to be washable you can use a giant piece of foam instead of cardboard for the center.
P.S. The ones we sell don't have old cardboard in the middle since that would make them unwashable. We use something more long lasting and durable.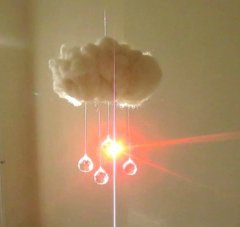 Wool Project 2: Make An Arm Knitted Heart Rug
(which can also double as a blanket, it actually drapes perfectly over shoulders like a shawl and is quite comfy for reading a good book on the couch with). This billowy rug is HEAVEN to sink your toes into and you'll be hooked.
but first…..
One Golden Tip for PERFECT Arm Knitted Projects (that don't shed)
ALWAYS felt your wool roving first before you arm knit a project. If you're using regular yarn such as Chenille Chunky Yarn or Bernat Alize Ez Blanket Yarn this step is not necessary. You can felt your wool roving by hand or pop it in the dryer on warm for 5 minutes.
WARNING, if you don't felt your wool roving first your project will not last that many years, it will shed like mad everywhere AND may even tear apart when used roughly. Felt your wool roving when using it as arm knitting yarn and save yourself the tears later.
For this project you'll need:
2 kgs of wool roving or about 80 meters (roughly 80 yards) of any other kind of chunky knit yarn.
Your arm!
45 Minutes of your time (if you're knitting VERY slow and relaxed).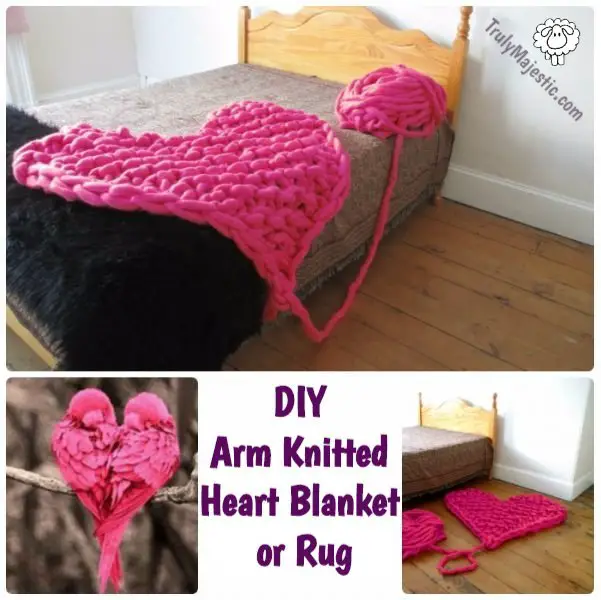 Wool Project 3: Colorful Wet Felted Stones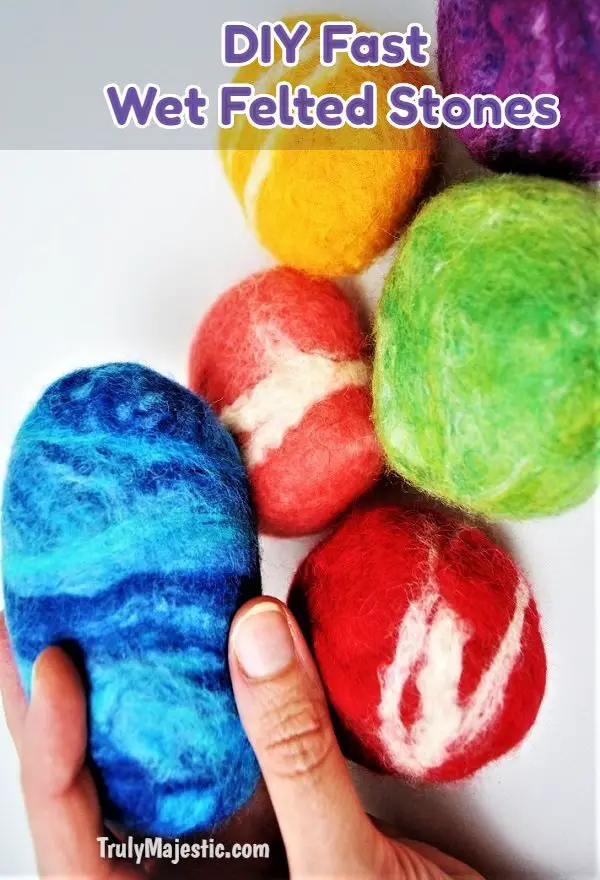 IF you're looking for fun and easy wool crafts these colorful wet felted stones are just the thing. They literally take hardly any effort at all since the washing machine does all the wet felting for you!
Supplies you'll need to wet felt stones
Wool Roving – https://amzn.to/2LiedWQ
Stockings – https://amzn.to/2NHewgO
Foam – https://amzn.to/2LiegC0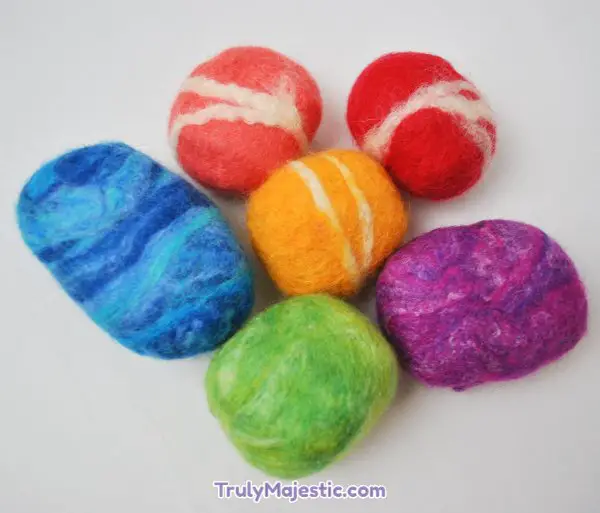 Watch the video and you'll see what I mean about EASY EASY EASY.
Wool Project 4: Make a NO SEW Wool Mattress Topper
Follow the golden tip from about and follow the video tutorial below and your on your way to an INCREDIBLE mattress topper that I guarantee will having you sleep more peacefully at nights. T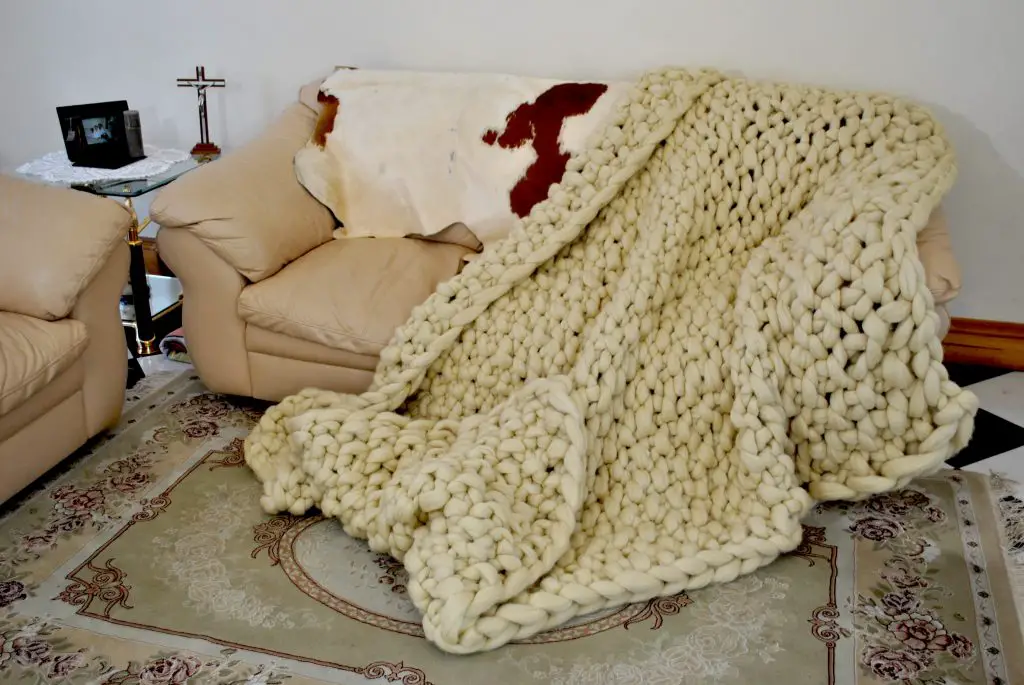 Supplies needed for this wool mattress topper
10 kgs (22 lbs) of wool roving (this link is for 1 kg, you'll have to order 10 to get the quantity right if you want a topper the same size as the one in the video I did.
Your arms (or you can just lay your giant knitting out on a large floor or table, because it is a bit too big to hold it all on your arms at once.
Several hours (you'll need to first felt the wool, you can do this in the machine or by hand. Becozi has a video on how to felt wool in the washing machine.
This wool mattress topper ALSO doubles as a huge fluffy blanket as you can see I've put on the couch in the picture below. Watch the video and I'll tell you where to buy the cheapest pure wool in bulk so your topper will be costing only a fraction of what the same thing would cost online.
P.S. I think I should mention that most wool toppers are not using 22 lbs (10 kgs) of wool to make their toppers, usually they use a quarter of that or less for the same size which leaves you with a VERY thin layer of wool between you and the mattress (and they charge you a LOT for it).
No one makes wool mattress toppers like what I've made below. Which is absolutely dreamy to sleep on. I can't stop going into all the benefits I've gleaned from my sleeps on this woolly wonder.
Here's my original post with more wool mattress topper benefits listed and more HOW To's.
Wool Project 5: Wet Felted Stone Rug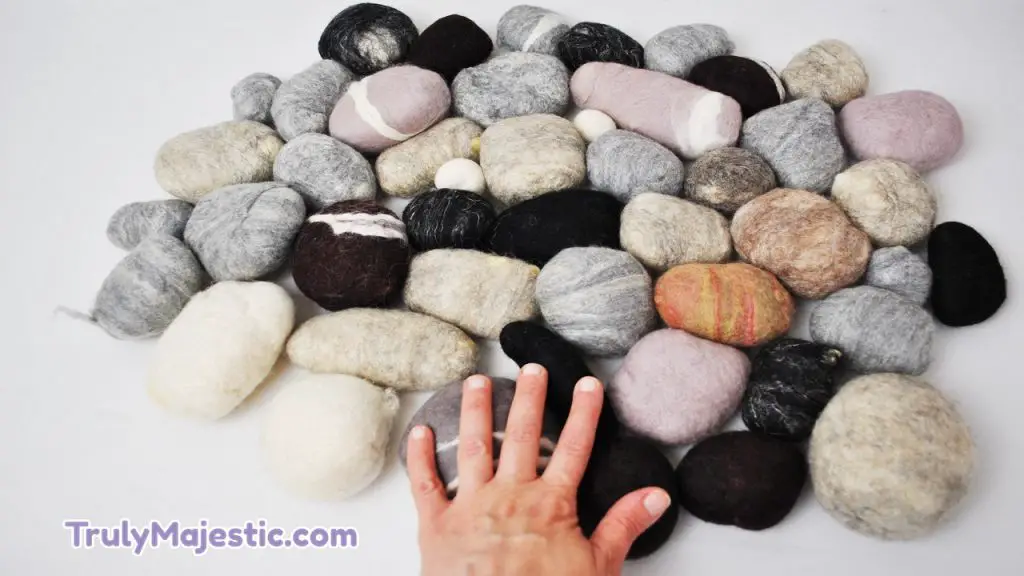 Supplies Needed For The Wet Felted Stone Rug
Wool Roving – https://amzn.to/2LiedWQ
Stockings – https://amzn.to/2NHewgO
Foam – https://amzn.to/2LiegC0
Carpet Mesh – https://amzn.to/2zxQ1uc
and an hour or more of your time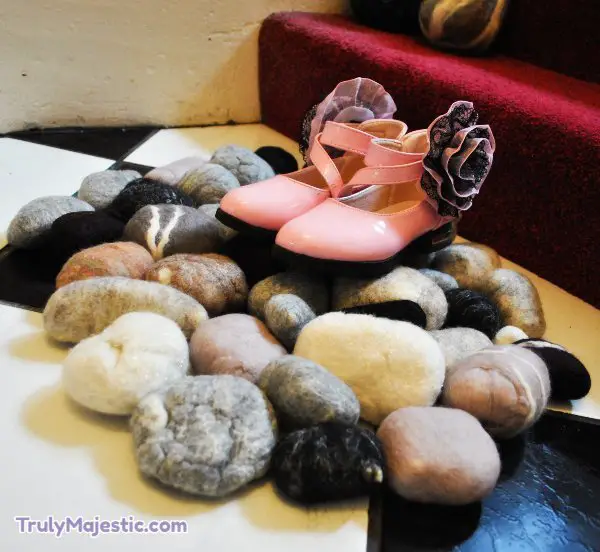 Wool Craft 6: Rib Stitch Chunky Knit Blanket