Whether you're looking for a way to keep your kids outside or want to teach them how to garden indoors, there are lots of fun and easy indoor gardening projects for kids.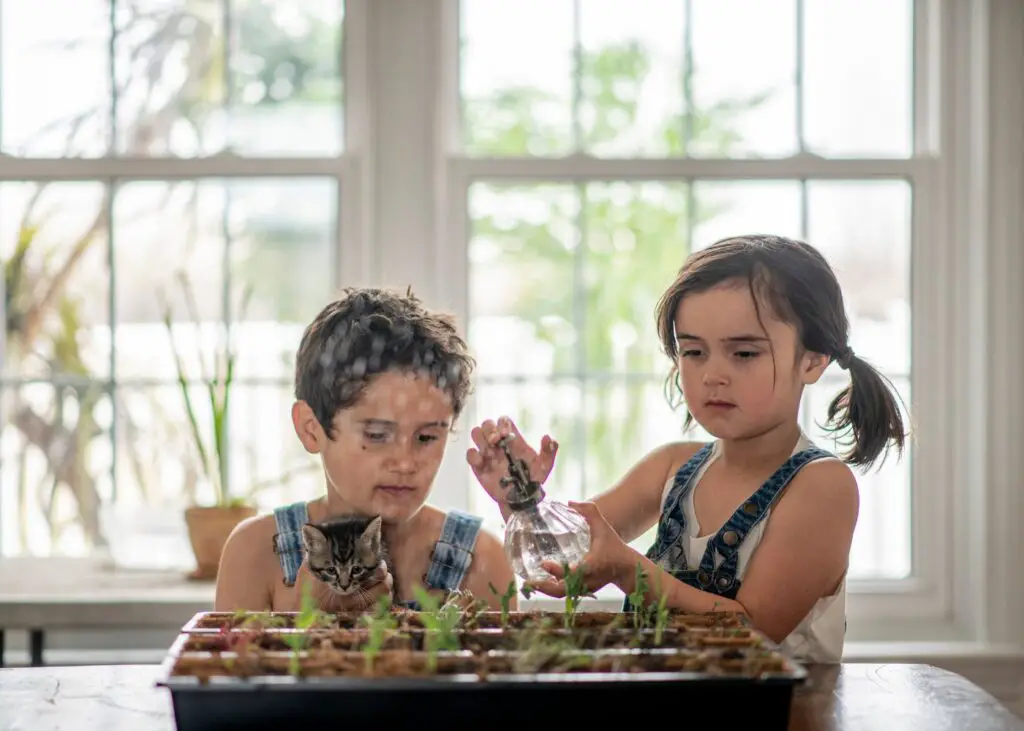 Make Your Own Fairy Garden Universe
Creating your own fairy garden universe is a fun indoor gardening project for kids. 
You can use miniature pieces of furniture, miniature plants and accessories to make your own miniature garden world. You can also use items such as marbles, seashells, aquarium gravel and sand to create a mermaid lagoon.
Your fairy garden should be set in a suitable location. This could be in a window or in a child's room. It should be situated so that it looks nice and provides plenty of light. It is also a good idea to set it in a spot where there are natural features such as trees and bushes.
The most important part of creating your own fairy garden universe is choosing the right plants. You can use miniature succulents and other drought tolerant plants that do not need much water. These plants can also be bought in many different colors. They are great for indoor gardens because they are low maintenance and are available in many interesting shapes.
A good place to start is with a miniature garden house. You can purchase kits at local craft stores. You can also use a milk carton to make a house that is just the right size.
You can use small tree stumps as these can be carved with a hole in the center. Fill it with soil and plants. Use moss to cover the area, as this can add a very realistic effect.
Plant A Bulb Lasagne
Whether you're gardening with kids or simply want to have a spring flowering display in your patio or garden, you can create a bulb lasagne. 
This simple technique allows you to plant two or more layers of bulbs in a single pot, setting up a spring display that will last for months.
To plant a bulb lasagne, you'll need a pot with drainage holes, a compost pot, and a variety of spring bulbs. Once your pot is filled with bulbs, you'll want to place it in a shady, but inconspicuous location. Then, you'll want to water it frequently during the spring blooming season.
Once the bulb lasagne has finished blooming, you'll want to dig up the bulbs and store them in a cool, dry location over the summer. You can then replant them in the fall.
When planting a bulb lasagne, you'll want to ensure that you plant the bulbs in a deep pot. If you plant the bulbs too shallow, you'll risk exposing new growth to cold temperatures.
You'll also want to make sure that you buy bulbs that are disease-resistant and large-flowered. You can find inexpensive bulbs at the supermarket, but you'll also want to invest in higher-quality bulbs at bulb nurseries.
The first layer of bulbs should be the largest. You should also make sure that you plant the pointy end of the bulbs up. Then, you'll want to plant the next layer of bulbs below the first.
Grow Garlic Greens
Whether you're an avid gardener or you're just looking for a way to keep fresh garlic in your fridge, you can grow garlic greens indoors.
Planting veggies with kids is a fun project, and it's easy. 
You can grow garlic in a pot or in a pot-planter, and you can use a variety of containers to do it. You'll have fresh garlic greens in about 7 to 10 days.
If you're going to grow garlic indoors, you need a pot that has drainage holes. You can purchase one of these at garden supply stores, craft supply stores, or online. 
You'll also need to buy organic fertilizer. You'll need to fertilize your garlic plant at least twice a month. You'll also need to water it regularly.
The best time to plant garlic is in the cold months. After planting, you'll need to let it sit in water for an hour to make sure the soil is properly moist. During warm months, you may need to water it more frequently.
If you live in a warm climate, you'll probably need to water your garlic plant two to three times a week. The amount you need to water your garlic plant will depend on the temperature of your home, as well as the amount of sunlight your garlic plant gets.
You should also use a healthy dose of compost to improve the texture of your soil. 
Make Seed Bombs
Seed bombs are a fun way to get your kids involved in the process. When you are making seed bombs, you will want to use local, non-invasive seeds. 
You should also check with your local authorities to make sure you aren't violating any laws. You may also want to research the best materials and techniques for making seed bombs.
Seed bombs are made by mixing clay and organic matter with water. The mixture is rolled into balls, which can then be planted. You can make seed bombs from a variety of seeds, including wildflowers, edibles, and herbs. You can also use recycled paper to make seed bombs.
Seed bombs are easy to make, but they can also be finicky to grow. 
You will also need a small amount of water. You can also add some soil and clay mix to the clay to make it stickier and use a small mold to shape the balls.
If you are making seed bombs for kids, you should have them make educated guesses about which kinds of pollinators they think will visit the bombs. You should also keep a journal of the seeds that grow in the bombs to help you plan future plantings.
Conclusion
Gardening is a great way to teach kids about the environment and how plants grow. It can also be a fun family activity that helps kids learn about responsibility. 
By following some simple tips, you can make gardening an easy indoor project for your child that will keep them entertained all winter long.