This post contains affiliate links for your convenience.
Thanks Diana from " Creative Mom " for sharing with us behind the scenes in your life!
First of all, tell me a little about your background and how you got started with paper clay and painting?
Both me and my husband have a master in fine arts, in the sculpture department, but we've worked with all kinds of mediums and materials ever since highschool. We modeled clay, carved in wood, stone, welded metal, molded silicone, resin and fiberglass, shaped paper-mache, cardboard, anything you can think of. We had some great teachers and that must be one of the reasons why we enjoyed it so much. So I've been working with the materials you see me use in the videos and many others for a long time, about 15 years.
What was your occupation before you became a stay at home Mom?
After graduation one of the challenges of being an artist is finding a job. Some of our colleagues became teachers, some others found jobs as graphic designers. We decided to start a small business making theme decorations. We were basically making styrofoam sculptures in any shape or dimensions.
Life size and LARGER Sculptures from Diana and her husband's small business.
What is your creative process like?
For my YouTube creation I start by thinking of a shape and then decide the material best suited for the job, either cardboard, paper clay, jars, boxes, bottles. After so many different projects I instantly know how I'm going to do it and what's it going to look like. Some people think I go with the flow and improvise on the spot. That's actually not the case. Most of my projects are well thought through. I even have a couple of videos where I make a sketch first and keep it in front of me for the whole video so everyone knows what to expect in the end. But usually the sketch is in my head 🙂
What's your work space setup like?
I try to keep a clean work space. Just a simple table, my hands, the material and the tool I use at that moment. I try to keep my video about the creation itself. I see a lot of crafting videos on YouTube where the artist has a table full of colors, tools and a bunch of unnecessary objects just sitting there the whole time. I think it's distracting and I always try to think from the viewer's perspective. If you clicked on my video, you came to see the creation so that's what I'll show you. The camera is also facing the creation the whole time. I try to give you the best view and make you see the whole thing like I see it.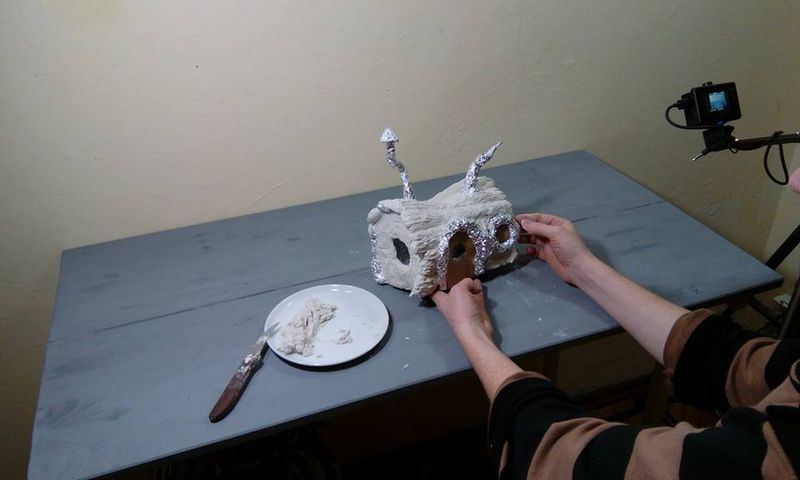 What are your favorite art tools to work with when you're creating with paper clay and cardboard?
When it comes to tools I try to keep it simple. You won't see me use fancy tools. I use a cutter for cardboard and an old knife for paper clay. The old knife I had since forever but the funny thing is that people considered it a fancy tool and always ask me about it. I had to find a similar one to link it in the description box. People will always ask about the tools and materials.
Sometimes I think they do that just to find a good excuse not to start. They're probably thinking 'I would definitely start a fairy house if I had that knife, look at that knife, it does all the work'. I would say 'Just start the damn house!!!!
It can be made with a spoon, a fork or a stick, it doesn't matter, the important thing is to start. Try the clay, see how it feels in your hand, do you like it? You can figure out on your next fairy house if you really need a fancy tool or not.'
Do you have a favorite paper clay brand you use?
I used 'Das modelling material' since I can remember. I used it in highschool for the first time and enjoyed it so much. I used Das in my videos because I realised they are widely known and people all over the world can find it easily. That is the main reason I recommend it so much. Some people think I get paid to recommend it. I wish :))) I buy my Das clay, full price from a local shop.
How long does it take you to create something new, edit the video, and post it to all the different media channels you have?
The whole production takes about 3 weeks give or take. Sometimes it's two weeks, sometimes it's four. Sometimes I just can't get my creative juices flowing for weeks :)) it happens, I have over 80 videos on my channel. I always try to make original and entertaining content for my viewers while making it fun and entertaining for me too. If for me it's no fun… then… what's the point? 
One thing, I have noticed it's the beautiful layers of colors that you use to create your artwork. How do you decide on what colors will compliment and provide a mesmerizing design for your artwork? How many colors are too many to layer?
My style of coloring is really simple. I tend to use just a few colors, three or four. I apply the base color for each element and then add shadows and sometimes lights. It's not an exact recipe and it depends on each project. It's more like solving a math problem.
It goes a little bit like this in my head 'So I used green for the grass and leaves, red for the mushrooms, grey for the stones, brown for the wood beams… What should I use for the door and windows? What would be a good color for the roof?'
See one of Creative Mom homemade paper clay tutorials here.
So I basically start with the colors I know (green leaves and grass, red mushrooms etc), and after I try to imagine the other things like the windows, roof and door in different colors until I feel they would complement the whole creation.
I have to ask this question because I know it's a burning question many have asked of your art. Do you sell your artwork anywhere, and what do you do with all the creations you make?
For now they decorate my house. I gave a couple away as presents. I will sell them at some point. Shipping from my country is kind of expensive so I have to really think this through before I make an etsy or ebay store. (shipping for a small house it's at least $20) Sometimes I dream about having an exhibition with all of them somewhere in Europe, before I would start selling them. That would be awesome!
Can you give beginner artists some advice on how to get started becoming known online?
In the beginning it took a lot of patience, a lot of trial and error. Didn't find my niche right away. I don't know how many people know this, but my first videos were actually about crocheting. I was making some sweet crochet cupcakes, another passion of mine. So it took a lot of tuning to find my thing. Best advice I can give is 'Find something people want to see and you are really good at. If you don't find that thing right away don't give up, keep on trying, tweak it until you notice a difference. Also clean your work space before filming :))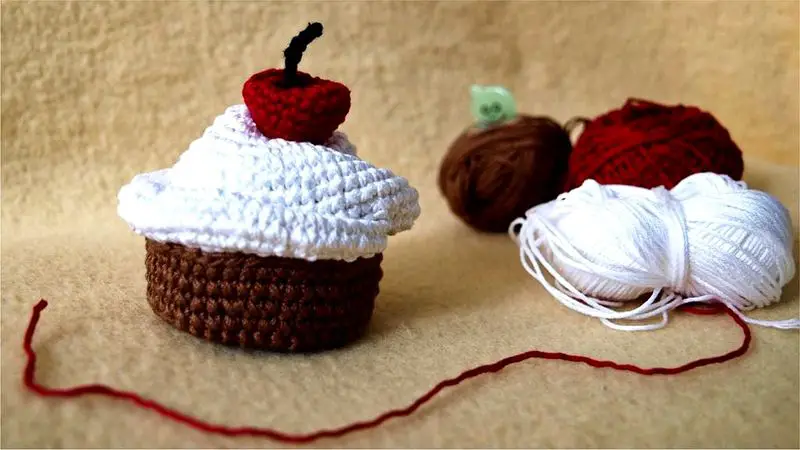 Do you have a favorite artist or youtube channel(s) you enjoy watching?
I love 'Stan Winston School', they do amazing practical effects in movies.
I also watch a lot of videos about SEO and YouTube related stuff. If you want to grow on YouTube you must watch Derral Eves videos, he has amazing content, really helpful for growing your YouTube channel.
What's your favorite thing to do with your family?
Walking in the park with my family is the thing I missed the most during the lockdown. Brainstorming ideas for videos is another thing we enjoy doing.
Where are all the places people can follow you online?

People can follow me on YouTube and Facebook.
I also have a Facebook group called "Creative Mom Club" where fans can share their creations with over 25,000 creative enthusiasts.

Do you have a favorite phrase, saying or quote?
'Things are not difficult to make; what is difficult is putting ourselves in the state of mind to make them. ' C. Brancusi
Do you have a favorite book or film?
I absolutely love Tim Burton movies, I think it's no secret :))
Say THANK YOU! To Creative Mom by…
Pinning any photo from this interview to pinterest, or share on twitter or facebook. This encourages more people to get to know her work and increases her fans!!!
Join In The Paper Clay Game!
Drop an idea, OR grab a picture, painting or something else that you think would be great inspiration for Diana's next project and put it in the comments below! Be sure to add a reply comment to the person you think has the most inspirational idea!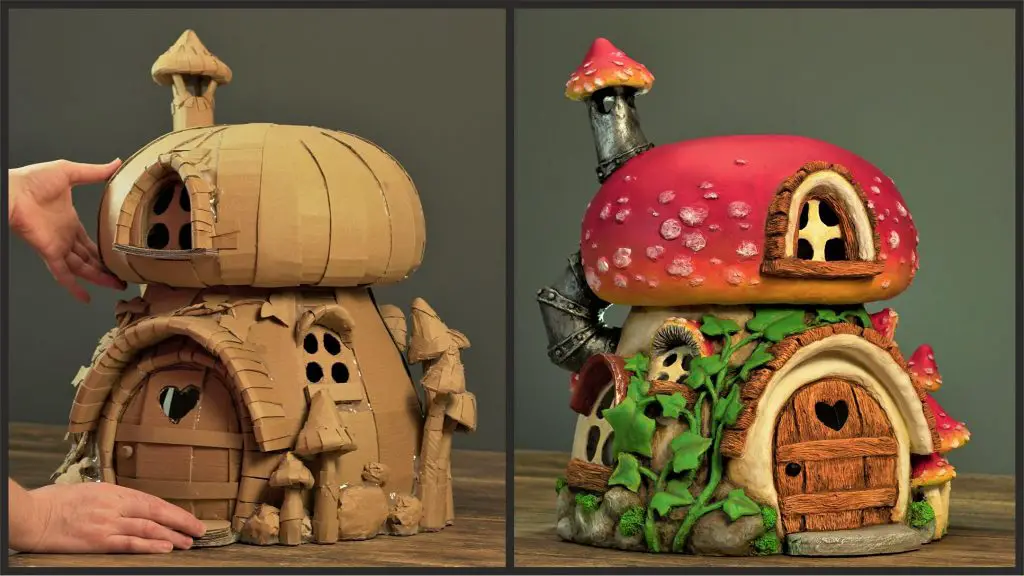 This post contains affiliate links for your convenience.