We talked directly Rick, a Balios representative about what makes an umbrella "Windproof" since many umbrella's out there with double canopies are touted as being windproof. Here's what he had to say:
"From our experience, the double canopy version may not have huge difference in flip-proof feature than the single canopy version, maybe just slightly better.
There is always a misunderstanding part when it comes to "windproof" for multi-folding umbrella. People would like to believe when it's windproof, it means it would get blown inside out when It's windy, although it's really not the true we would say, it's indeed quite difficult to prevent multi-folding umbrella from flipping inside out in windy condition, as the ribs are normally formed in different sections. General speaking, the walking umbrella would have much better flip-proof feature as the ribs are normally in one whole piece.
Normally when it says it's windproof for a multi-folding umbrella, it normally means the ribs won't get broken easily when it's flipped or in windy condition."
The things we really like about the Balios umbrella that made it stand apart from the rest.
Wooden handle….. you might not thing wood is such a big deal, but this handle is absolutely elegant AND the way it's shaped with a nice little groove for your finger makes it fit like a hand in a glove. We also like the weight the wooden handle gave the umbrella,' although it didn't make it heavy, it was heavier than a plastic handle which certainly made it feel more sturdy to hold.
Special ribs that don't break when the wind whips your umbrella inside out!
Extra spacious black umbrella case.. If you had to dash into a shop during a down pour this extra little black case is loose enough that the umbrella can be tucked into it quite quickly, whereas the smaller tweed case is tighter and is meant for putting away when you're not in a rush.
Automatic open and close… that one speaks for itself.
Last but not least, it's designed in the U.K. by people who have to deal with down pours, drizzles, wind and everything else living in the U.K. offers as far as weather. We thought they did a great job taking care of fine details and making it an umbrella to remember, use and love.
Wooden Handle

Folding ribs (that don't break when your umbrella turns inside out)

Large Carry case for dashing into shops

Small carry case

Tweed Design
There actually wasn't anything that we didn't like about this umbrella, we were really happy with it and will be using it regularly for years to come.
Needless to say, I don't think this one will be dying on us anytime soon, and the tweed design certainly makes it stand out from other more traditional umbrella colours.
Got a Balios umbrella? You can post a picture of what you like best about yours here AND what part of the world your in.
Summary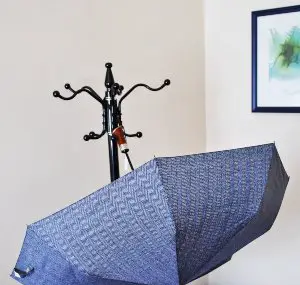 Article Name
Balios Umbrella Product Review
Author