When you master these basic arm knitting techniques you'll be able to knit up all sorts of things, blankets, scarves, rugs and more.  The sky's the limit.
Let's quickly touch on the techniques covered here.
Casting On
Knitting Through The Back Loop
Knit Stitch
Cast Off
Here we go!
Arm Knitting The Single Casting On
Let's cast on!  This is a VERY simple cast on technique. This is a single cast on, or non-knitters cast on.  I prefer this method because there is minimal waste and I work with expensive roving and REALLY don't want to have extra scrapes wasted.
When knitting a long tail cast on there is some guesswork, and because everyone's arm are different sizes it's more difficult to gauge correctly.  Many have ended up with a long extra tail to weave in to their work at the end and others have miscalculated and run out of yarn completely.  It's because of these things I prefer this method for arm knitting with wool roving.
You make the cast on over two rows.  The first row is a row of consecutive twirls, the second row you simple "knit through the back loop"
Arm Knitting The Single Cast On
Knitting Through The Back Loop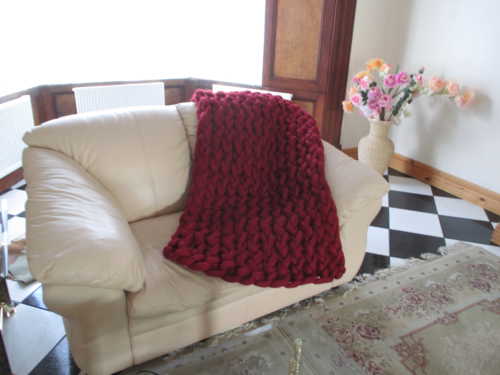 This arm knitting technique is the fastest stitch to knit.  You'll have a blanket done in record time thanks to the ease of it.  It is also used on the second row of a single cast on to complete the cast on row.
When knitting a blanket with this stitch it gives a gorgeous braided textured look, just look and see!
"Knit through the back loop" aka ktbl (knit through back loop).

Arm Knitting The Knit Stitch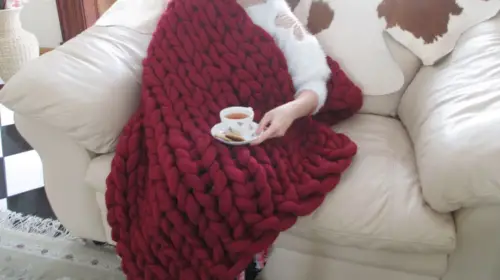 This is perhaps the most used stitch in knitting with needles or arms.  It's easy and makes a a lovely smooth front side of a project while the back is bumpy.
Arm Knitting the Knit Stitch aka k (Knit)

Arm Knitting The Cast Off
Casting off is very easy.  You'll make a lovely end edge on your projects with this.  There are many ways to cast off.  This is the most used and easiest way to end projects.
Casting Off

Now It's Your Turn To Create Something!
Be sure to pin this, share it, or save it somewhere to refer back anytime you want!
Have a suggestion for a post?  Just comment and let me know.
Happy Arm Knitting,
Stacy