… Now then!  Beautiful patterns on boring blankets…
I hate wasting time so I'm getting right to the steps to create gorgeous patterns on boring blankets.
First of all you need a boring blanket (shown below).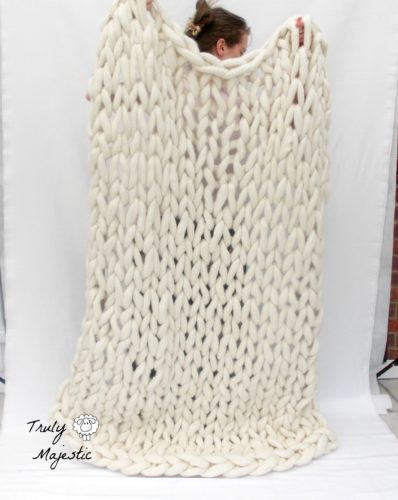 Your blanket can be any size you like.  It's important to make sure you count how many columns and rows there are so you can get your pattern exactly right before you start drawing it on paper.
Step 1 Draw Out Your Pattern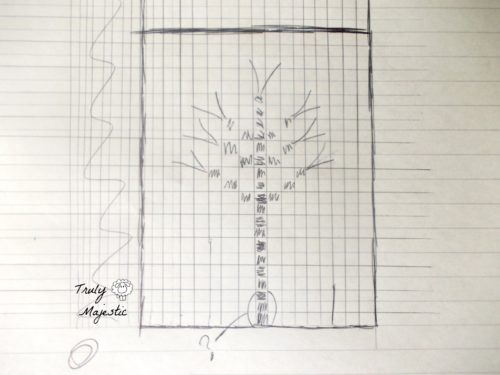 Like I said earlier for this chunky knit blanket you'll need to map out the exact number of columns and rows and put it into a graph like the hand drawn chart above.
Step 2 Use the Duplicate Stitch For The Pattern
There are an abundance of other things you can arm knit up.  The sky's the limit once you know the basics… and don't be scared away by the price of wool, you can also use synthetic yarn to get the job done.
If you haven't gone through my 7 Lesson arm knitting course, now is the time to try it out.  Knitting up chunky blankets takes hours not days so you can get several finished in a day and be finished with gifts for the year in no time at all!  Grab it below.

To see how I did the duplicate stitch please watch the video from the beginning.  I'd LOVE to see what you create!  You can post it on my facebook page in a comment and I'll share it as a post if you state permission for it to be shared in your comment.

More pretty arm knitted blankets for you to feast your eye's upon.
These are just some of the things I've been able to come up with.  Be sure to follow us on facebook or pinterest to never miss our latest creations!